Product Information
Offering visual appeal combined with advanced technology, the Verona Concept provides a contemporary solution for a huge range of applications.
With a choice of four types and a variety of sizes and outputs, the Verona Concept allows extensive flexibility of siting, whilst breaking new barriers in heating efficiency.
Strictly controlled independent laboratory testing ensures that the Henrad Verona Concept Range radiators are guaranteed to perform to a maximum working pressure of 66 psi (4.6 bar), and conform to BS EN 442, the European Standard for radiators.
Every radiator comes wrapped in robust, practical packaging that will keep the product pristine, right through to handover. Protective through storage and transit, the new packaging design also allows for installation prior to removal.
Technical Information
Henrad combines the most sophisticated production resources in Europe with substantial investment in testing and verification of performance data, which has helped us create high output radiators delivering heating performance that exceed expectation.
We also want to exceed expectations when it comes to customer service, and our experts are on hand to support and understand your technical specification needs.
All table figures are based on Btu/hr ∆t50 °C

Guaranteed delivery within 48 hours when your order at your merchants with Henrad Express for only £15 per radiator.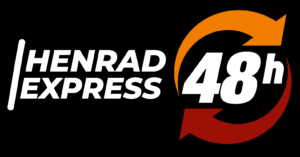 Verona Vertical Concept Single
Height mm
Length mm
Henrad Code
Heat Emissions Watts
Heat Emissions Btu/hr
Price excl. VAT
1800
444
248652
852
2907
£528.65
1800
592
248653
1136
3876
£618.69
1800
740
248654
1420
4845
£708.74
Verona Vertical Concept Double
Height mm
Length mm
Henrad Code
Heat Emissions Watts
Heat Emissions Btu/hr
Price excl. VAT
1800
444
248655
1254
4279
£915.14
1800
592
248656
1672
5705
£1075.77
1800
740
248657
2090
7131
£1250.74
Verona Slimline Concept
Height mm
Length mm
Henrad Code
Heat Emissions Watts
Heat Emissions Btu/hr
Price excl. VAT
1800
320
2486658
872
2976
£589.94
1800
440
248659
1199
4092
£679.98
1800
520
248660
1417
4836
£770.04
1800
640
248661
1744
5952
£869.97
Btu/hr @ ΔT50°C