Product Information
Simplicity itself, the Plan range features a smooth, flat front panel with integrated top grille and side panels, providing a minimalistic, slimline, sleek and modern appearance. Available in a range of sizes for both horizontal and vertical radiators, the Plan provides an instant level of sophistication to any room. If you're looking to add style to a home, the Plan deserves close attention Strictly controlled independent laboratory testing ensures that the Henrad Plan Range radiators are guaranteed to perform to a maximum working pressure of 116 psi (8 bar), and conform to BS EN 442, the European Standard for radiators. Every radiator comes wrapped in robust, practical packaging that will keep the product pristine, right through to handover. Protective through storage and transit, the new packaging design also allows for installation prior to removal.
Technical Information
Henrad combines the most sophisticated production resources in Europe with substantial investment in testing and verification of performance data, which has helped us create high output radiators delivering heating performance that exceed expectation. We also want to exceed expectations when it comes to customer service, and our experts are on hand to support and understand your technical specification needs. All table figures are based on Btu/hr ∆t50 °C

Guaranteed delivery within 48 hours when your order at your merchants with Henrad Express for only £15 per radiator.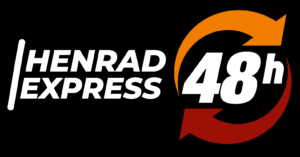 Plan - Single Convector Type 11
Height mm
Length mm
Henrad Code
Heat Emissions Watts
Heat Emissions Btu/hr
Price excl. VAT
300
500
4031105
235
802
£145.36
300
1000
4031110
469
1601
£227.24
300
1500
4031115
704
2401
£309.12
500
400
4051104
298
1017
£169.92
500
600
4051106
448
1530
£202.69
500
800
4051108
597
2040
£235.47
500
1000
4051110
745
2545
£268.21
500
1200
4051112
895
3060
£300.95
500
1400
4051114
1044
3570
£333.73
500
1600
4051116
1194
4075
£366.48
500
1800
4051118
1343
4584
£399.25
600
400
4061104
364
1242
£190.43
600
600
4061106
547
1866
£223.19
600
800
4061108
729
2487
£255.93
600
1000
4061110
911
3108
£288.71
600
1200
4061112
1093
3729
£321.48
600
1400
4061114
1275
4350
£354.20
600
1600
4061116
1392
4751
£386.95
600
1800
4061118
1566
5345
£419.71
600
2000
4061120
1741
5939
£452.46
Plan - Double Convector Type 22
Height mm
Length mm
Henrad Code
Heat Emissions Watts
Heat Emissions Btu/hr
Price excl. VAT
300
500
4032205
465
1587
£231.41
300
1000
4032210
929
3171
£313.29
300
1500
4032215
1394
4756
£395.20
500
400
4052204
555
1894
£260.02
500
600
4052206
833
2843
£292.76
500
800
4052208
1110
3788
£325.52
500
1000
4052210
1388
4737
£358.32
500
1200
4052212
1666
5686
£391.08
500
1400
4052214
1943
6631
£423.81
500
1600
4052216
2222
7580
£456.58
500
1800
4052218
2499
8526
£489.33
600
400
4062204
654
2232
£282.56
600
600
4062206
980
3344
£315.32
600
800
4062208
1307
4460
£348.06
600
1000
4062210
1634
5575
£380.82
600
1200
4062212
1961
6691
£413.60
600
1400
4062214
2288
7807
£446.34
600
1600
4062216
2563
8744
£479.10
600
1800
4062218
2883
9836
£511.84
600
2000
4062220
3203
10928
£544.60
Plan Vertical - Double Convector Type 22
Height mm
Length mm
Henrad Code
Heat Emissions Watts
Heat Emissions Btu/hr
Price excl. VAT
1800
400
4182204
1476
5036
£751.83
1800
500
4182205
1845
6295
£817.19
1800
600
4182206
2214
7554
£961.03
2000
400
4202204
1588
5405
£877.13
2000
500
4202205
1980
6756
£953.41
2000
600
4202206
2376
8107
£1121.20
Btu/hr @ ΔT50°C