Product Information
The most modern execution of a traditional concept, this classic style brings innovations and reliability to a high performance design. Vertical and horizontal options offer a modern alternative to a traditional panel radiator, and will enhance both contemporary and traditional settings.
Strictly controlled independent laboratory testing ensures that the Henrad Column Range radiators are guaranteed to perform to a maximum working pressure of 116 psi (8 bar), and conform to BS EN 442, the European Standard for radiators.
Every radiator comes wrapped in robust, practical packaging that will keep the product pristine, right through to handover. Protective through storage and transit, the new packaging design also allows for installation prior to removal.
Technical Information
Henrad combines the most sophisticated production resources in Europe with substantial investment in testing and verification of performance data, which has helped us create high output radiators delivering heating performance that exceed expectation.
We also want to exceed expectations when it comes to customer service, and our experts are on hand to support and understand your technical specification needs.
All table figures are based on Btu/hr ∆t50 °C

Guaranteed delivery within 48 hours when your order at your merchants with Henrad Express for only £15 per radiator.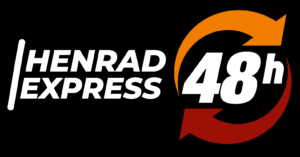 Column 2
Height mm
Length mm
Henrad Code
Heat Emissions Watts
Heat Emissions Btu/hr
Price excl. VAT
500
624
313012
494
1685
£216.10
500
854
313013
684
2332
£295.27
500
1038
313014
836
2851
£358.58
500
1268
313015
1026
3499
£437.73
600
624
313028
582
1986
£234.13
600
854
313029
806
2750
£297.15
600
1038
313030
986
3361
£360.19
600
1268
313031
1210
4125
£468.26
Column 2 Vertical
Height mm
Length mm
Henrad Code
Heat Emissions Watts
Heat Emissions Btu/hr
Price excl. VAT
1800
348
313054
896
3055
£288.17
1800
440
313055
1152
3928
£378.21
2000
348
313056
994
3390
£297.15
2000
440
313057
1278
4358
£387.21
2500
348
313058
1260
4297
£326.35
2500
440
313059
1620
5524
£450.30
Column 3
Height mm
Length mm
Henrad Code
Heat Emissions Watts
Heat Emissions Btu/hr
Price excl. VAT
300
440
313000
298
1016
£201.94
300
624
313001
430
1467
£249.75
300
854
313002
596
2032
£316.83
300
1038
313003
728
2483
£372.69
300
1268
313004
894
3048
£452.05
300
1452
313005
1026
3499
£542.09
300
1866
313006
1324
4515
£723.03
500
440
313016
464
1584
£234.13
500
624
313017
671
2287
£277.62
500
854
313018
929
3167
£306.15
500
1038
313019
1135
3871
£405.23
500
1268
313020
1393
4751
£522.28
500
1452
313021
1600
5455
£558.32
500
1866
313022
2064
7038
£702.38
600
440
313032
547
1866
£252.15
600
624
313033
790
2695
£288.17
600
854
313034
1094
3732
£333.19
600
1038
313035
1338
4561
£414.23
600
1268
313036
1642
5598
£531.29
600
1452
313037
1885
6427
£576.30
600
1866
313038
2432
8293
£738.42
750
854
313044
1341
4573
£414.23
750
1038
313045
1639
5589
£486.26
750
1268
313046
2012
6859
£630.35
750
1452
313047
2310
7875
£738.42
750
1866
313048
2980
10162
£949.64
Column 4
Height mm
Length mm
Henrad Code
Heat Emissions Watts
Heat Emissions Btu/hr
Price excl. VAT
300
440
313007
381
1298
£255.00
300
624
313008
550
1875
£278.15
300
854
313009
761
2596
£351.94
300
1038
313010
931
3173
£436.63
300
1268
313011
1142
3895
£546.45
500
440
313023
615
2096
£270.17
500
624
313024
888
3028
£289.33
500
854
313025
1229
4192
£378.21
500
1038
313026
1503
5124
£468.26
500
1268
313027
1844
6288
£567.32
600
440
313039
730
2489
£286.32
600
624
313040
1054
3595
£306.15
600
854
313041
1460
4978
£378.21
600
1038
313042
1784
6084
£468.26
600
1268
313043
2190
7467
£567.32
750
440
313049
900
3069
£336.92
750
624
313050
1300
4433
£360.19
750
854
313051
1800
6138
£468.26
750
1038
313052
2200
7502
£558.32
750
1268
313053
2700
9207
£702.38
Btu/hr @ ΔT50°C